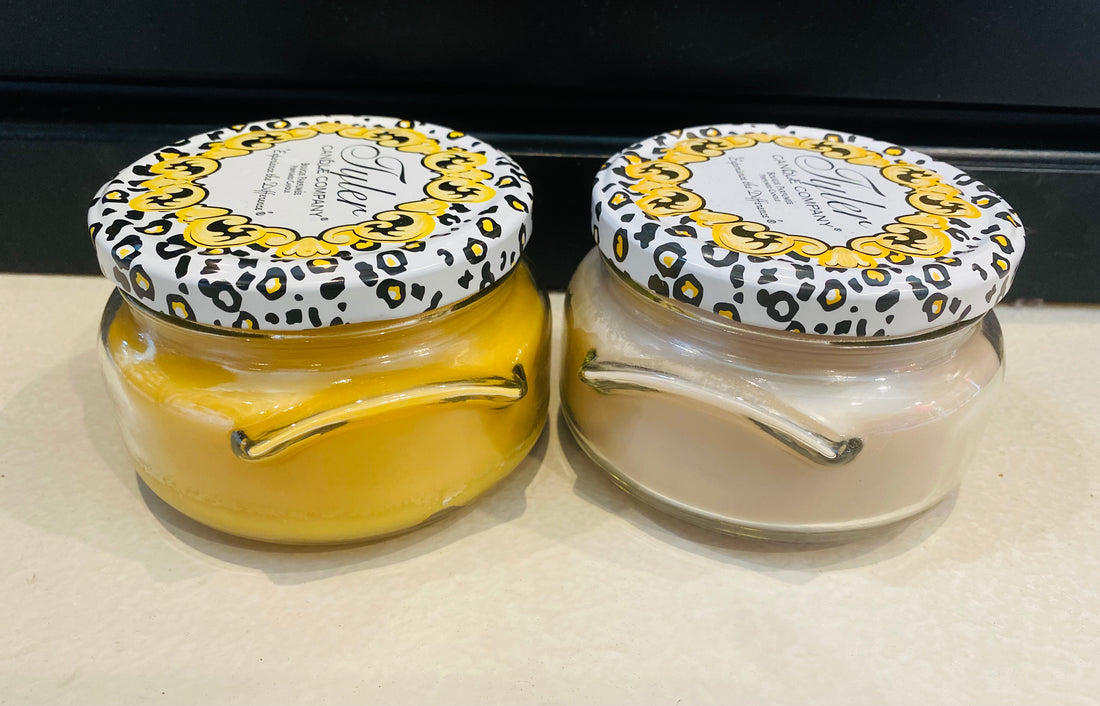 Tyler Candle Co. - 22oz. 2 Wick Prestige Jar Candle
Dolce Vita - Where sensuality and femininity live side-by-side! Plunge straight into the heart of deep floral accords. Full-bodied tea and bergamot begin the temptation! Sabac, jasmine, orchid, freesia and patchouli come together to create the power to make everything more positive!
Bless Your Heart - Innocent, sweet, playful & always truly genuine!! Raw Vanilla, Bergamot, Sicilian Orange, Raspberry, Fig Leaves, Lily of the Valley, Cotton Candy, Musk, ended with Woody notes!!
Kathina - Sensual lily of the valley intertwined with citrus and rose. Very dramatic and overdone!!
Entitled - Privilege is perfection & special treatment is immediately granted!!! Rich sugared oranges, meld with tart lemons, and limes, reminiscent of exotic mountain greens!
Warm Sugar Cookie - Always in our top three year round! Rich sugar cookies baking in the oven with zero fat grams!!!
Tyler - Bursting with the medley of currant & grapefruit. A dash of green undertones adds an opulent twist! Firmly grounded with confidence!
Pineapple Crush - A tantalizing burst of fresh sweet pineapple. Truly mouthwatering!
Platinum - Inspired by the masculinity, power and strength of a man. A complex mixture of bergamot, lavender, pineapple leaf, exotic verbena, oakmoss, geranium, coumarin, apple, rose, pomarosa, sandalwood, tonka, & evernyl.
Icon - An invigorating, fresh fragrance as legendary as the leading man who wears it! Spicy, sporty, original, and truly unforgettable! Notes of sandalwood blend with ambergris, violet leaves, French verbena, and Florentine iris to create the ultimate aromasensory experience!
Diva - A warm and complex fragrance overflowing with delicious fruits and rich florals. Rich aromatic chocolate and amber complete this luscious blend!! It's her world . . . we just live in it.
High Maintenance - Our #1 fragrance!! Floral, woody blend combined with patchouli and vanilla with a heavy musk undertone! Very sophisticated and truly addictive!!!!!!!
Fleur De Lis - A timeless fragrance with a heady, sun-kissed feel wrapped in the exotic lushness of faraway lands. Tart pomegranates create the mysterious heart of the amazing fragrance. An elixir for the senses!
French Market - Fresh floral with notes of gardenia and tuberose. Extremely unique!
Orange Vanilla - Pure orange and rich vanilla bean blend together with a hint of spice to create an invitingly clean year round favorite!
Cowboy - Nearly decadent in its sensuality, loaded with the rugged aroma of leather!
Celebrity - The fragrance dreams are made of....exemplify singular star quality! A rich, sensual floral essence blends with a rich Oriental drydown. 
TwentyFourSeven Glam - A truly dramatic feature! For the women to which glamour is not an option, but a true necessity! Who would simply just NEVER.........Voluptuous vetiver, vanilla and heliotrope combined with violet and jasmine make up the heart of this creation, then mandarin, succulent peaches & green ivy complete the soul!
Pumpkin Spice - Pumpkins simmered with ginger & cloves and a dash of nutmeg completes this giving fragrance.
GlamFam - Created for and by the glamorous! Bergamot, lemon, and orange begin this citrus medley followed by rosewood and green tea layered under violet
A Christmas Tradition - A tantalizing blend of oranges, apricots & tangerines smothered with ginger, clove & cinnamon. A true smell of Christmas.
Seasons Greetings - Pomegranate, Mandarin Orange & Pine are smothered in Cloves & Cinnamon!!! Finale of Vanilla & Amber complete this new classic favorite!!!!!